PROCEDURES
STRUCTURE & RELATIONSHIPS
Successful Corporate Innovation requires its own unique set of organizational structures. Just as trying to get water to flow from Point A to Point B requires a plumbing structure, or trying to get energy to flow from Point A to Point B requires a wiring structure, trying to get new ideas to flow from conceptualization to commercialization requires a particular set of organizational structures. Without these structures, the ensuing innovation processes will be unable to "flow", and individual efforts will hit dead-ends and roadblocks with no easy way around or over them. This means that projects will go unexecuted and the needed results unrealized. For this reason, having the right structures in place is imperative.

Perhaps the most fundamental structure question the organization will have to address is where to locate its "innovation function" — does it centralize innovation, decentralize innovation, or do both. The first utilizes a dedicated core innovation team to drive and execute all innovation projects. The second rolls out innovation as a core distributed competency, and tasks individual functional groups and business units with making a certain percentage of their projects true "innovation projects". The third uses a combination of both approaches. No one approach will be right or wrong for every situation. There are well–understood pros and cons to each approach, and each company must carefully consider its current organization, its culture, its capabilities, its industry and markets, and any number of other factors to determine which approach might be best suited for it.

The following matrix lays out some of the implications for centralized versus decentralized approaches. As can be seen, for each stage of the innovation process — front end (ideation), mid zone (strategizing), and back end (commercialization) — this decision has important implications for where certain commercial and technical activities will take place (e.g. Chief Innovation Officer's office versus front line business units, etc.).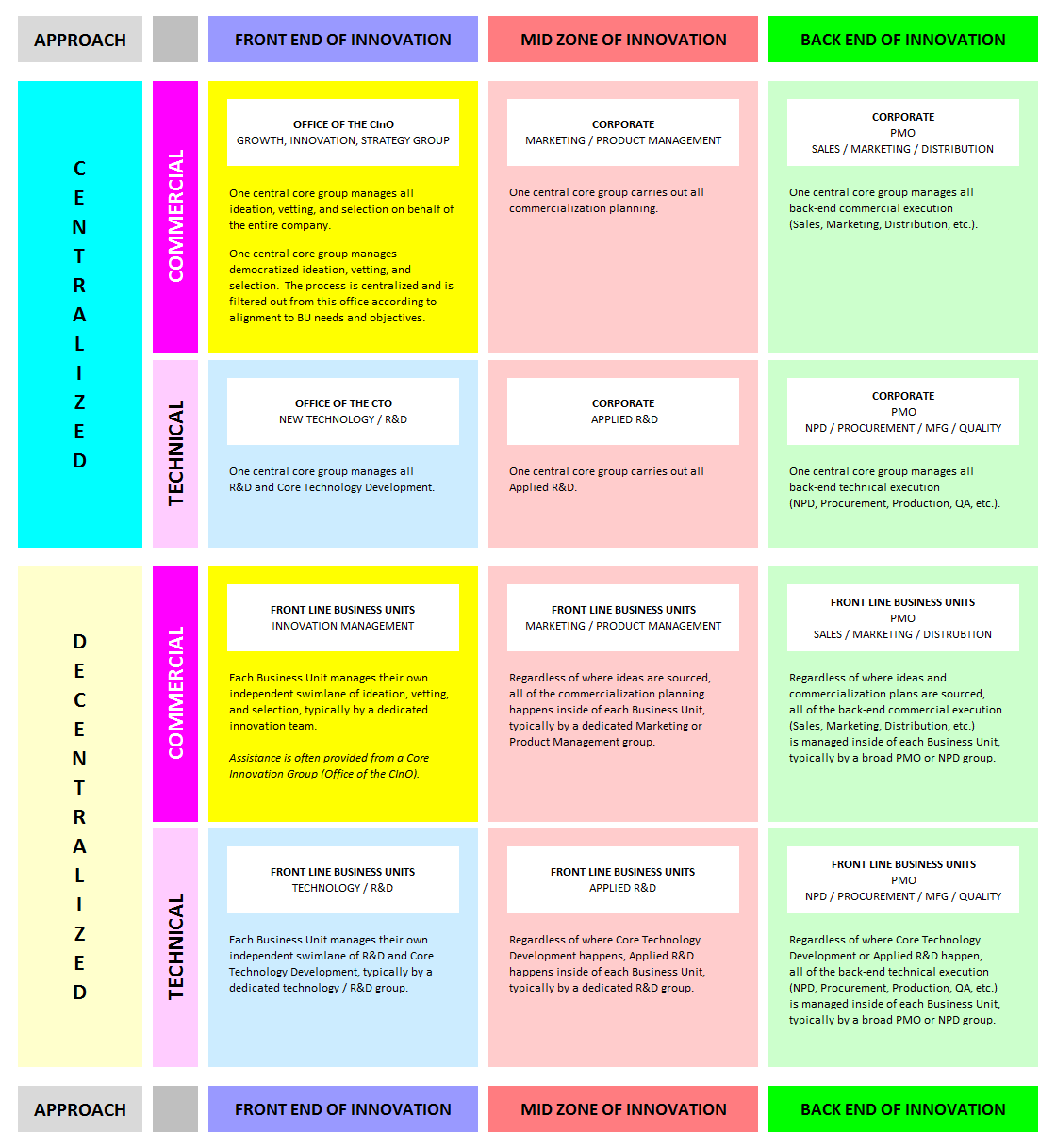 In more "traditional" organizations, it is usually advantageous to centralize innovation as a stand–alone function, as such groups will be less encumbered with the current way of doings things and can more easily "break away from the pack". In more "progressive" organizations, it is often advantageous to either decentralize innovation or take a hybrid approach. The majority of businesses considered "most innovative" tend to employ a hybrid of both approaches, with each offering a slightly different aim and outcome. Generally in those cases, centralized projects tend to focus on more "close–in", short to medium term innovations, while decentralized projects tend to focus on more "out–there" long term innovations.

Once this key decision has been made, the next step will be to define and build out the necessary team structures to ensure individual projects get championed and executed. Generally speaking, the structure of these teams will entail three primary roles — leaders, facilitators, and implementers. These are explained in more detail under Roles and Responsibilities.

The final step in the area of structure is to define the working relationships between the groups involved (e.g. core innovation team and front line business units) and the particular events at which formal interactions will take place and decisions made. These relationships can involve any number of structured and unstructured interactions, used as needed for each project (with generally no limit to how much informal interaction takes place). The guiding philosophy for these relationships should be one of stakeholder alignment, as the critical need will be to manage stakeholder expectations and get the right people on board with specific decisions prior to taking the next action steps. In terms of formal events, this may look like something like a traditional phase–gate process in which decision–makers convene, review insights and results to date, and make decisions as to whether to continue supporting specific projects, modify them, or shelve them, according to a predefined set of metrics and KPIs.
GOVERNANCE PROCESSES
Once structures have been defined, it is next possible to define the actual governance processes, or more accurately, series of processes, the innovation program will use. Given that the broader program may incorporate a variety of activities involving any number of growth vehicles and any number of internal and external constituents, the details around each process can vary considerably from one to the other.

In order to think about overall governance, it is easiest to break the innovation process into its three stages — front end (ideation), mid zone (research and strategizing), and back end (development and implementation / commercialization). At each stage, a gating process will need to be used to move the most promising ideas forward, while rationalizing the rest (perhaps placing them into a "parking lot" to be revisited at a later time). This process starts out with a funnel (widely capturing as many ideas as possible) and proceeds to a pipeline (those worth working on). Its management is similar to that of a traditional phase–gate process, except that in the case of new innovations the projects often end up having to be continually "pitched" to decision–makers as they get further refined throughout the process. This process of managing innovation is well documented in the Market Stream IM System. Having a solid Innovation Management system in place will prove critical to maintaining support for the program inside the organization, as it gives participants a clearly understood process for getting their ideas introduced and having them fairly and objectively considered by the business. This will boost their morale and engagement in the program.

On the front end (funnel), new ideas can be captured and evaluated through the Innovation Management system. These ideas may originate from any number of sources, including, for example, individuals, internal ideation campaigns, external crowdsourcing, strategic think–tanks, or anywhere else (see Engagement below). Responsibility for capturing all these ideas and ensuring they get properly catalogued will fall to managers in the Corporate Innovation program. It is important they ensure that all new ideas, regardless of their source (internal or external), get catalogued and tracked in the IM System so that the program's overall effectiveness can be monitored. Corporate Innovation Managers will find internally–generated ideas from mechanisms officially tied to the program the easiest to capture and catalog, while externally–generated ideas from outside sources such as Open Innovation partnerships and CV–backed startups will be more challenging to capture and catalog, particularly when those areas are managed by separate groups. Nevertheless, it is important they capture and track these ideas, as they are often the ones that are so novel and foreign to how an industry works that they end up being the really impactful, even disruptive, innovations that matter the most.

In the mid zone (early pipeline), where projects have been vetted and certain ones selected for investigative and planning work (e.g. market research, developing go-to-market strategies, etc.), the process can be managed on the basis of whether the work is to be undertaken internally or externally. Internally, business plans are developed and pitched to a Selection Panel (aka "Angel Committee"), as explained in the Market Stream IM System. Externally, the process will typically involve outside parties doing most of the work, and then interfacing with key point–persons inside the Innovation Group or front line business units. The results of that work will also be pitched to a Selection Panel for further investment prior to commercialization. In the case of Corporate Venturing, the investment decision process is typically managed separately based on the perceived merit of a particular venture, and is generally overseen by a separate Selection Panel.

In the back end (late pipeline), where projects have been fully green–lighted for development and implementation / commercialization, development will generally take one of three routes, while commercialization will most often take place inside of a sponsoring business unit, particularly if it involves a new offering. In Route 1, the development integrates into the organization's standard New Product Development (NPD) pipeline or some similar pipeline (e.g. Manufacturing Process Improvement Team if the innovation involves a new manufacturing capability, or Sales Capability Team if the innovation involves a new Sales and Distribution process). In Route 2, the Innovation Group uses its own development team to develop the new innovation, more common where there is a new technology or new product category involved. In Route 3, the development is sourced to an outside third party. The decision as to which of these three routes to take will depend on the nature, scale, and scope of the project, and how well it otherwise fits with what a particular business unit may be doing and how they wish to pursue it. From an implementation / commercialization standpoint, if the new innovation involves a product or service offering, commercialization will generally fall back to a sponsoring business unit (unless there is no business unit aligned to it, in which case either the Innovation Group will commercialize it, or a new business unit will be formed to do so). If the new innovation involves a process (internal or external), implementation will tend to fall to an appropriate functional group, and will be implemented across most or all business units.

As seen, Corporate Innovation governance, and Innovation Management in general, have distinct processes for the front end, mid zone, and back end of the funnel / pipeline. So long as these are well coordinated, the program will yield a steady stream of results. One important consideration across all these stages is that the governance process operate on agreed–upon ground rules, and those rules are made widely known. This drives transparency within the program and across the organization. That in turn helps to maintain the health of the program by ensuring participants feel there is a level of objectivity in how it is managed.
GOVERNANCE METRICS
In the course of carrying out Corporate Innovation, select sets of metrics and KPIs will be needed for governance purposes. Since innovation programs generally have many facets, these metrics and KPIs will fall into a number of different categories, each serving a particular purpose. Below, six such categories are highlighted, but in any given program there can be more or less than this, depending on the design and intentions of the program.

The first category of metrics will be those used to evaluate individual ideas and projects prior to and during early development. Typically each phase of the Innovation Management process (funnel / pipeline) will have its own sets of metrics. While the exact metrics may vary from one business unit to the next, according to their particular needs, the metrics should nevertheless be applied uniformly across all the ideas and projects so as to drive objectivity and transparency in the process (important for keeping positive morale in the program). Examples of possible metrics might include: degree of alignment to BU strategy, ability to create new value platforms, expected revenue over the first 5 years, line extension options, implementation costs (to develop / produce / market / sell), financial returns (e.g. ROI, DCF / NPV), development lead times, commercial risks, technical risks, and so forth. These are not unlike the metrics used in normal product roadmap discussions, except that since the ideas are typically more "outside the norm", the confidence around their projections may be somewhat fuzzier (though this should not be seen as a roadblock).

A second category of metrics is those used to evaluate insights gained from market research. Their purpose is to judge whether or not the research indicates acceptable viability of a particular concept, such that further research and/or development is warranted. Since market research will be conducted for only a select few concepts, the need for uniformity here is less pressing; the most important consideration will be to ensure that the metrics or KPIs are well–suited to the situation and to what needs to be learned about the concept.

A third category of metrics is those used to evaluate the learnings from in–market testing conducted in select test markets. The purpose of these metrics is to gauge whether or not these tests indicate a level of market viability and scalability that will prove attractive to the company, and if it should therefore move forward with a full market roll–out. Since there will only be a limited number of market tests conducted, the need for uniformity here is less pressing; the most important consideration will be to ensure that the metrics or KPIs are well–suited to the situation and to what is attempting to be demonstrated about the concept.

A fourth category of metrics is those used for Corporate Venturing decision–making. These are used to gauge the expected success and growth of a particular new business venture such that decisions can be made around whether or not to invest, when to invest, how much to invest, and how much to otherwise get involved in each new venture. Typically, different metrics will be used depending on the growth stage of the venture and the degree of alignment it has with the organization's core business strategy.

A fifth category of metrics is those used to evaluate the final success of individual innovation projects. These can be any standard business metric, such as real revenue growth, margin realization, brand uplift, regional sales volumes, actual versus planned costs, impact elsewhere in the business, and so forth. Each project will be judged against its originally forecasted / expected success parameters (those established in the first category above).

A final — and very important — category of metrics is those used to assess the health and success of the Corporate Innovation program itself. Particularly as the program begins to enter into its third, fourth, and fifth years, there begins to develop some clarity around its overall level of effectiveness in driving new innovations that have meaningful impact to the business and its markets.

Often this set of metrics is broken down into approximately eight areas, as follows:
Leadership — Organizational perceptions of executive support for the program (perhaps as assessed through 360° surveys) / Percentage of executive time spent on nurturing innovation projects.
Environment — Strides in alignment and support from other organizational domains (being a help rather than a hindrance) / Progress made in continuing to remove obstacles to innovation and change.
Competence — Percentage of participants trained and certified in business innovation / Improvements in the caliber of ideas generated by the program / Participant engagement in, and satisfaction with, the overall program (perhaps as assessed through 360° surveys).
Inputs — Number of ideas generated internally and externally in each period / Participant time invested in the program each period / Capital invested into the program each period.
Throughputs — Quantity and caliber of ideas passing screening from funnel to pipeline in each period / Financial value of the pipeline by stage / Time required for projects to move through the pipeline from concept to reality.
For more details on the pipeline process, see Market Stream IM.
Outputs — Number of concepts commercialized in each period / Revenue derived from new offerings across a given period / Margin gains attributable to new offerings across a given period / Value of new markets entered or created / Uplifts in brand equity for a given brand / Impacts on the broader corporate strategy.
Efficiency — Improvements in the ratio of general program outputs to inputs / Improvements in the ratio of "market successes" to "market failures" / Improvements in capital efficiency (revenue & margin lift versus capital invested).
Balance — Mix of innovation types from around the business model (e.g. offerings, markets, channels, etc.) / Mix of risk levels (e.g. core, adjacent, or new markets) / Mix of time horizons (e.g. short, medium, and long term).
For more details on all of these, see GR5 Roadmap and Breakthrough BI.



Needless to say, there are a large number of metrics that can be used for program health assessment. The important consideration is to use those that are most meaningful to the business and that will drive momentum toward the desired behaviors and outcomes.
ROLES & RESPONSIBILITIES
Just as with structures and processes, Corporate Innovation will need to establish a clear set of roles and responsibilities. The most important consideration here will be the selection of those leaders used to drive the program, at all levels — strategic, tactical, and everywhere between.

At the strategic level, Corporate Innovation requires its own seat at the C table — known generally as the Chief Innovation Officer, or CInO. This is to ensure it has equal footing and visibility with the organization's other functions and that it has a voice when needed, including at times being the prominent voice.

The person who fills this role will become the business' Innovation Architect. As such, the position demands a particular type of executive — one who sees the big picture, one who gets the "round peg in a square hole" nature of innovation, and one who can convincingly articulate a vision and plan for moving the program forward, as well as advocate for its individual projects. There is a relatively small cohort of executive–level leaders who match this unique profile.

The actual role of the CInO can vary quite widely depending on the level of innovation maturity the company has reached and on how the CEO and Board of Directors wish to leverage the Corporate Innovation program. There are four generally–accepted functions that the CInO role can assume (each associated with a particular level of innovation maturity):
Advisor — This CInO serves as an internal consultant to the CEO to help focus the company on defining a series of innovation strategies, both overall and within individual business units. They scan the external environment and the company for new opportunities, and then based on the trends and changes they see, make appropriate recommendations. Actual execution of the innovation strategies generally passes to the front line business units. In effect, this CInO is the company's innovation function, consolidated into one person. They may work either in isolation, or as part of a Corporate Strategy group. Over time, this CInO may influence a broader journey toward a more comprehensive Corporate Innovation capability.

Catalyst — This CInO takes on the heavy–lifting task of initiating a new Corporate Innovation program, with the goal of institutionalizing systematic innovation capable of achieving short, medium, and long term growth objectives. This CInO must be an agent of change and a convincing evangelist at the highest levels of the organization. As such, the role requires a well–respected individual capable of building alliances and alignment among key business leaders, and of exerting significant influence when needed.

Expander — This CInO serves as a curator of emerging innovation capabilities within the business. Their task is to continue maturing the organization's innovation prowess and further systematizing the overall innovation process such that it becomes increasingly embedded inside the business. This CInO does very little in terms of setting actual innovation strategies, as that capability has by this point matured inside of individual business units and functional groups, including the core innovation group(s). Instead, they spend their energies developing increasingly advanced innovation programs and capabilities.

Renewer — This CInO — because the organization has reached the highest levels of innovation maturity — now spends their energies engaged with the CEO and Board of Directors developing higher level business strategies aimed at helping the company navigate "bends in the road" it may encounter, thus constantly "renewing" itself. This may involve some highly strategic opportunity changes for the company, together with significant changes in the company's architecture.
At times, and under certain circumstances, the role of the CInO may encompass aspects of more than one of these.

At a level in between strategic and tactical, one must consider the group of individuals who will lead and manage the Innovation Management system, which the program will by necessity need. This group — known generically as the Evaluation Group — serves as gatekeeper of the innovation pipeline. They are charged with evaluating the steady stream of ideas submitted into the innovation funnel and selecting those ideas they feel hold promise. The members of this group must be experienced business leaders who have been explicitly trained and empowered to execute this role. These individuals can hail from any variety of corporate functions, including Corporate Strategy, Marketing, Engineering, business unit leadership, or an equivalent function. Regardless of how this group is constituted, it must function cohesively, and will need to maintain solid connections to, and relationships with, designated point–persons inside of each business unit. These individuals should otherwise not have roles inside of the business units or other functional groups. This is to ensure they remain unbiased toward maintaining a status quo of how things are currently done in the company.

Another important set of roles that operate at both the strategic and tactical levels is that of Marketing Communications specialists. These individuals run engagement marketing and public relations campaigns on behalf of the program, both internally and externally. Such campaigns help to drive engagement in the program by sending the right messaging, making this is a very crucial set of roles for the program. For more on this aspect of the program, see Public Relations below.

At the tactical level are the acting innovation teams — those teams tasked with championing and executing individual innovation projects. Specific roles have to be defined for these teams as well. They will generally involve three primary types of role — leaders, facilitators, and implementers. Leaders can come from any discipline. Their job is to both lead the project and champion it in all corners of the organization, up, down, and across, meaning they must be able to articulately advocate for the project's vision whenever and wherever that is called for. This requires a mix of entrepreneurial fervor, political savvy, and solid leadership skills. Facilitators are individuals who have been specially trained in the practices of innovation facilitation, such as Design Methods. Their job is to enable and facilitate the type of creative exploration work uniquely associated with innovation. Implementers make up the core cross–functional team that will carry out the hands-on work of each discipline, including such roles as Marketing, Engineering, Finance, Manufacturing, Sales, Customer Service, and so forth. Given their broad constituency, acting innovation teams require an equal mix of both hard and soft skills. In those cases where innovation is centralized into a distinct function, these three roles will generally be a part of that function. In contrast, wherever innovation is decentralized into the business units, the Leaders and Implementers will typically work for these business units, while the Facilitators may belong to a dedicated Innovation or Corporate Strategy Group.

The preceding sets of roles — CInO / Evaluation Group / MarCom / acting innovation teams — are representative of the types of roles that would be associated directly with the Corporate Innovation program. Aside from these, the next consideration must be for the roles and responsibilities that will reside inside of each business unit, where it is expected that certain business units will be the ones who take new innovations to market.

There are two critical roles that must be filled inside of each business unit. The first is the main point–person who will serve as the point–of–contact for communication on specific projects. This is largely a tactical role, and ensures that open communication and dialogue are constantly facilitated between Innovation Managers and the business unit. The second is the business unit champion — often the head executive of the business unit, or one of their next–in–command. This is a strategic role whose responsibility is to provide alignment with and support for specific projects — the so–called "downstream receiver". Their job is to provide a go / no-go vote on specific projects targeted for their business unit, indicating which endeavors they intend to support and which they do not. This is very important, as otherwise innovation groups can end up working on projects that go nowhere and never get commercialized. Thus, the Corporate Innovation leadership must get this person's vote of support for an idea up front if they are to justify the time, effort, and resources required to develop the idea. In most cases, some amount of preliminary work will have to be done on each idea to get it to this point, at which point the ideas are then "pitched" to the champion so that they can decide which ones they will support and which they will pass on. This is an integral part of the Innovation Management selection process, in which, at any given review, the champion will be reviewing a portfolio of projects at differing stages of development. These two roles — the point–person and the champion — are critical to the success of every Corporate Innovation program, and must therefore be defined inside of each front line business unit.

Finally, aside from the core innovation and business unit roles, in some cases special groups will be used to run special parts of the innovation program. This can include for example Open Innovation and Corporate Venturing partnerships. With Corporate Venturing in particular, if the organization intends to pursue this on a large scale as an ongoing vehicle of its growth strategy, it will typically set it up as a separate legal and financial entity with its own operating protocols. This allows the entity to make its own investment decisions without first having to obtain approval from the main business, enabling it to operate agilely. Its operation would therefore look more like that of a private Venture Capital fund than of a large business enterprise. Whenever special groups such as these are set up, their unique roles and responsibilities will have to be defined accordingly.